How do I get my criminal conviction vacated or expunged?
Would you like to get a criminal conviction removed from your record? Are you concerned about disclosing your criminal record on employment or housing applications? You may be eligible to get some convictions erased from your record. In Washington, removing charges from your file is also referred to as "expunging" or "vacating" your record. Contact us today for assistance. If you live out of state, are busy with work, or nervous appearing in front of a judge, we may be able to take care of the process for you without you ever having to appear in court.
Washington State recently changed the law on expunging your record. Because every case is different, contact a professional attorney for an individual consultation. To get your conviction vacated, you must meet some baseline requirements. The rules are different for felony, misdemeanor, and domestic violence assault charges.
Misdemeanor and Gross Misdemeanor Vacation Requirements
Felony Vacation Requirements
Every case is unique, so the checklist above serves as a general guideline. Contact our office for a free case evaluation.
After Expungement
In most circumstances, once a criminal conviction is vacated or expunged, you will be released from all penalties associated with the conviction, and you can legally state on a job or housing application that you have not been convicted of that crime.
Once the court expunges your conviction, the clerk of the court will notify the Washington State Patrol and local law enforcement agencies to update their records and erase your conviction. Additionally, a notification will be sent to the FBI to update their records and remove your conviction.
Vacating your criminal conviction does not automatically restore your right to possess a firearm. Getting your firearms back will require a separate process. Contact us today for more information.
A criminal conviction does not need to stay on your record forever. We can help turn your life around and put this criminal charge behind you for good. We offer affordable services at a flat-fee. Call or email us today to set up a free consultation.
Vancouver Firearm Restoration Lawyer
Your Second Amendment right to possess a firearm is a fundamental bedrock of our constitution. We understand that a restriction of your ability to own a gun can be devastating. Whether you are a serious hunter, an avid gun collector, or need protection to defend your home, a criminal conviction barring you from possessing a gun can negatively affect your life. If you need your firearm rights restored, we may be able to help. Even more, we may be able to assist without you ever having to come to court. Call to find out more.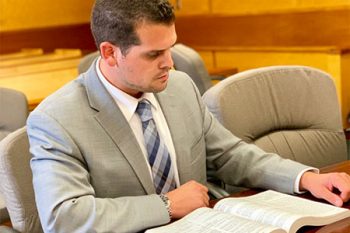 Some Washington state criminal convictions (link to RCW 9.41.040) will result in a loss of your right to possess a firearm. In Washington, any felony criminal conviction and some misdemeanor Domestic Violence criminal convictions will automatically result in the revocation of your right to possess a firearm.
These can include:
You will not be eligible to possess a firearm until the Court has restored your right to do so. The consequences of being caught in unlawful possession of a firearm can be dire. Do not risk it; contact an experienced firearm restoration attorney for assistance in restoring your right to possess a gun. We will take care of the process for you.
Am I eligible to restore my firearms, right?
Generally speaking, to qualify for restoration of your gun rights, you must meet certain baseline criteria:
Call our office today for a free consultation to see if you are eligible to have your firearm rights restored in Washington. We will take the time to review your case and come up with a detailed action plan to restore your rights. We will draft and file all the necessary paperwork with the court. We will communicate with the court and the prosecutor to schedule you the earliest available court hearing. At Carley Legal Services, our goal is to make this a smooth and easy process for you to restore your rights.
Does Expungement Clear Your Record?
An expungement will clear your record of ever having been convicted of a crime. If you have expunged a crime from your record, then when you go to apply for a job or submit a rental application, you can mark that you have never been convicted of that crime.
What Kind Of Crimes Can Be Expunged?
Most crimes can be expunged, except for Class A felonies, DUI's and related driving offenses, violent offenses or attempted violent offenses (link to RCW 9.94A.030), sex offenses, pornography and obscenity offenses, or sexual exploitation of children offenses. Talk to an expungement lawyer to discuss your particular offense.
How Long Does It Take For Your Record To Clear After Expungement?
Once the judge signs the Order vacating your crime, the clerk of the court will then send the Order to the Washington State Patrol for them to update their records.
Does Your Criminal Record Clear After Seven Years?
No. Your criminal record will remain intact unless you petition to have your criminal offense expunged or vacated.
Do Expunged Records Show Up On Background Checks?
No. Expunged records will not show up on background checks. Once you have your criminal offense vacated or expunged, you can legally tell your employer that you were never convicted of the crime.